This is an update on the state of Matrix-related software in Debian.
Synapse
Unfortunately, the recently published Synapse 1.0 didn't make it into Debian Buster, which is due to be released next week, so if you install 0.99.2 from Buster, you need to update to a newer version which will be available from backports shortly after the release.
Originally, 0.99 was meant to be the last version before 1.0, but due to a bunch of issues discovered since then, some of them security-related, new incompatible room format was introduced in 0.99.5. This means 0.99.2 currently in Debian Buster is going to only see limited usefulness, since rooms are being upgraded to the new format as 1.0 is being deployed across the network.
For those of you running forever unstable Sid, good news: Synapse 1.0 is now available in unstable! ACME support has not yet been enabled, since it requires a few packages not yet in Debian (they're currently in the NEW queue). We hope it will be available soon after Buster is released.
Quaternion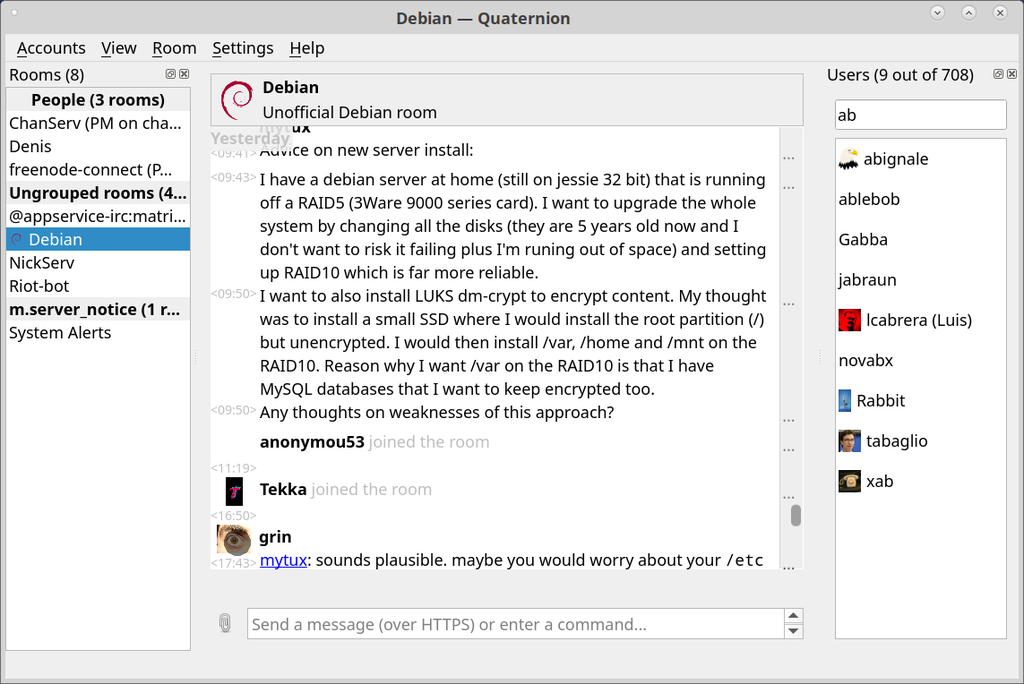 Quaternion 0.0.9.4 is being packaged by Hubert Chathi, soon to be uploaded. Hubert has already updated and uploaded libqmatrixclient and olm, which are waiting in NEW.
Circle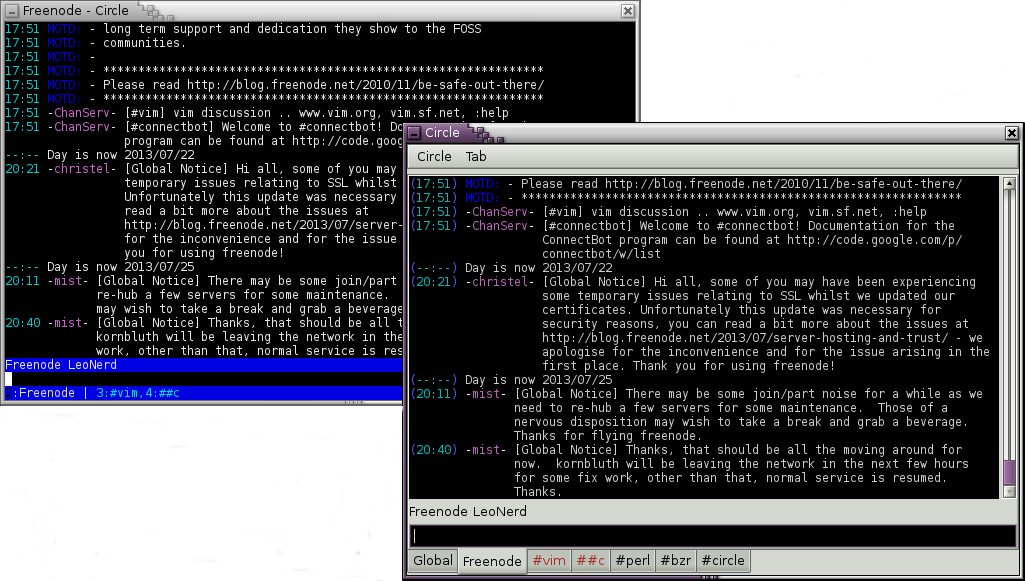 There's been some progress on packaging Circle, a modular IRC client with Matrix support. The backend and IRC support have been available for some time in Debian already, but to be useful, it also needs a user-interfacing front-end. The GTK 2 front-end has just been uploaded to Debian, as have the necessary Perl modules for Matrix support. All of the said packages are now being reviewed in the NEW queue.
Fractal
Early in June, Andrej Shadura looked into packaging Fractal, but found a few crates being of incompatible versions in Debian compared to what upstream expects. A current blocker is a pending release of rust-phf.
Get in touch
Come chat to us in #debian-matrix:matrix.org!